Authorized Dealer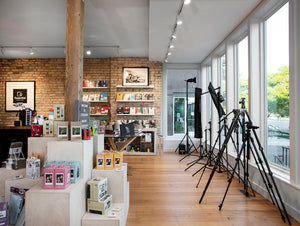 SERVICES
Do you have the cool film or digital camera, but need help knowing how to use it? We offer individual instruction to help you feel more comfortable and to understand exactly how your camera works.
Our individual instruction services are scheduled before we open or on Saturdays.
If you're interested in learning about any of our services, give us a call at the shop 801-410-8141
PHOTO SPACE
Once a greenhouse, this daylight studio offers incredible, must-see light!
Missing an extra battery, another memory card, or any color of seamless paper during your shoot? We've got you covered! Our retail space is just steps from the studio so you can be sure your day is a success!
Rent by the hour or by the day.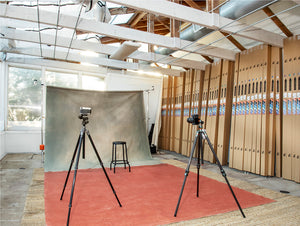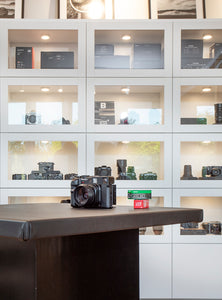 ABOUT US
Whether you are a professional, hobbyist, or a newcomer, you are welcome here! Our friendly staff has over 30 years of photographic experience they want to share with you! 
Our mission is to support the local photographic community with a small, boutique-like store offering all the essential photo supplies you need.
Essential Photo Supply is not only a retail space for all things photo, it's a place where we seek to promote creative inspiration in photographers at all skill levels and from all walks of life. We hope you'll come see us! 
-Ken, Lisa, Zahir, Victoria, Ethan, Rob, Rylee, and Carlos
NEWS & EVENTS
Join us for Butch Adams' Gallery Show -Friday 20 July 6-9 PM-
Butch Adams has been a mainstay of the Salt Lake City professional photographer community for forty years and counting. Entirely self-taught and for most of his career self-employed, Butch has helped commercial clients as diverse as Capitol Records, Vogue, Black Diamond Equipment, ZCMI, Glamour, Patagonia, Inc., Deseret Book, and KÜHL engage their audiences through compelling images.
Butch has also found a bit of time through the decades to capture magical moments in time and place, whether in the mountains, in a city, on the road, or in a studio. This show offers a selection of Butch's commercial and personal work. The unifying theme is the undeniable fact that the photographer is captivated with what's in the frame, whether a beautiful woman, a designed object, or a singular scene from life; Butch would like to share with you the seductive world he sees through his lens.
Follow Butch Adams on Instagram @butchadams.
Follow our Instagram @essentialphotosupply for more details.