Authorized Dealer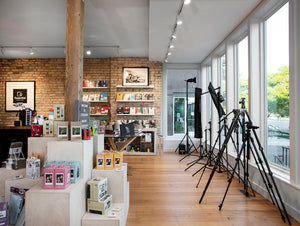 SERVICES
Do you have the cool film or digital camera, but need help knowing how to use it? We offer individual instruction to help you feel more comfortable and to understand exactly how your camera works.
Our individual instruction services are scheduled before we open or on Saturdays.
If you're interested in learning about any of our services, give us a call at the shop 801-410-8141
PHOTO SPACE
Once a greenhouse, this daylight studio offers incredible, must-see light!
Missing an extra battery, another memory card, or any color of seamless paper during your shoot? We've got you covered! Our retail space is just steps from the studio so you can be sure your day is a success!
Rent by the hour or by the day.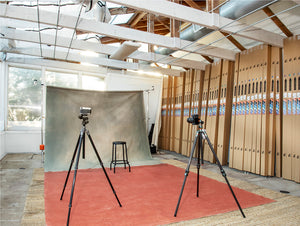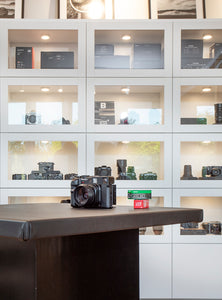 ABOUT US
Whether you are a professional, hobbyist, or a newcomer, you are welcome here! Our friendly staff has over 30 years of photographic experience they want to share with you! 
Our mission is to support the local photographic community with a small, boutique-like store offering all the essential photo supplies you need.
Essential Photo Supply is not only a retail space for all things photo, it's a place where we seek to promote creative inspiration in photographers at all skill levels and from all walks of life. We hope you'll come see us! 
-Ken, Lisa, Zahir, Victoria, Hunter, Ethan, Rob and Carlos
NEWS & EVENTS
An aquatic experience in land-locked Utah
Friday, July 14th 6-9 PM
Capturing beautiful love stories is one of Anna Claire's talents, and we are so excited to feature her own love story with the deep blue and the wonders of it!
Underwater photographer, portrait & wedding photographer and free diver, Anna Claire Beasley has a fascinating body of work to share at her opening reception of Dispatch: Stories From Out There.
Anna Claire Beasley is a photographer who splits her time between Salt Lake City and West Texas. She travels for the majority of her work and in her off elopements, she spends her time freediving in locations like Hawaii, Mexico, and French Polynesia.
Her work is grounded in the belief that photographs are about remembering moments + experiences and she makes it her goal to capture how those moments felt.
Follow our Instagram @essentialphotosupply for more details.